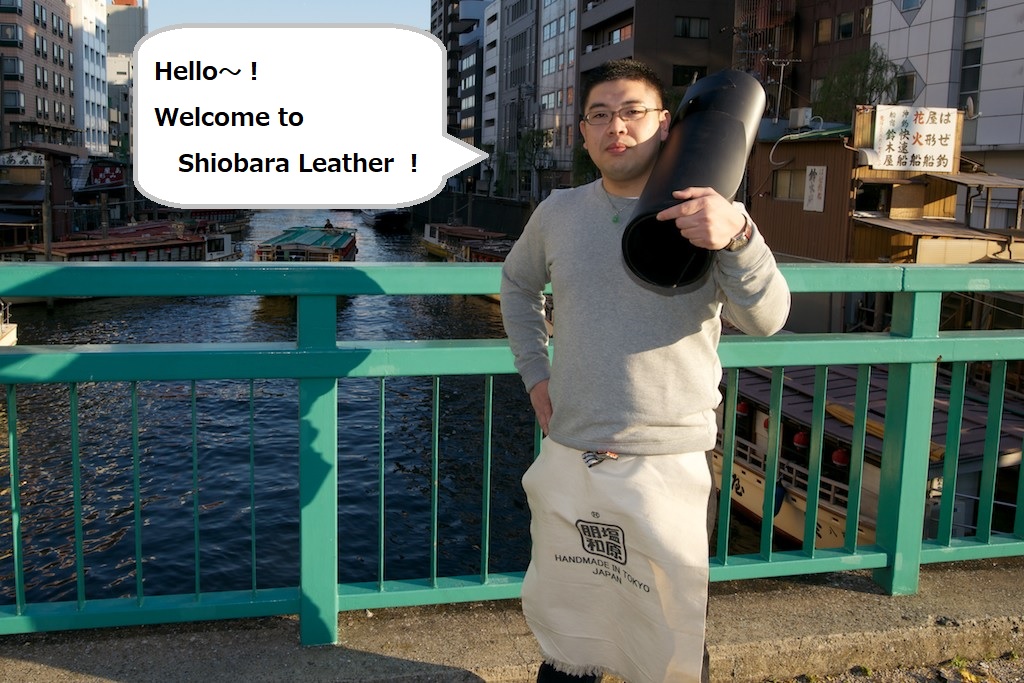 Thank you for visiting the Shiobara Leather website.
This page describes our shop and international shipping to customer all over the world!
In addition, we also introduce the following in typical world languages.
Asia area:  简体中文  /  繁體中文  /  한국어  /
  ไทย  /  हिंदू  /  bahasa Indonesia  /
Euro & other area:  Deutsch  /  Français  /
Italiano  /  Español  /  Português  /  русский
About Shiobara Leather
Shiobara Leather was founded in 2008 by Tomokazu Shiobara.
The location is Tokyo, Japan.
We operate as a store specializing in cordovan and bridle leather.
In addition, I manufacture the products without outsourcing.
The main materials we use are as follows.
Cordovan : Horween (USA) / Rocado (ITALY) / Shinkihikaku (JAPAN) / Leder Ogawa (JAPAN) / Miyauchi Sangyo (JAPAN)
Bridle Leather : J&E Sedgwick (UK) / J&F J Baker (UK) / Metropolitan Leather (UK) / Thomas Wear & Sons (UK) / Spire Leather (UK)
Translation into each country's language
This site is based on Japanese.
To switch to each language, follow the steps below to translate to your country's language with Google Translate.
For smartphones
You can set it according to the following procedure when translating with a smartphone.
↓ Tap the red frame in the above image.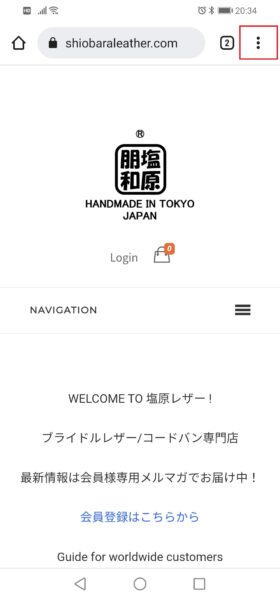 ↓ And then tap Translate from the menu.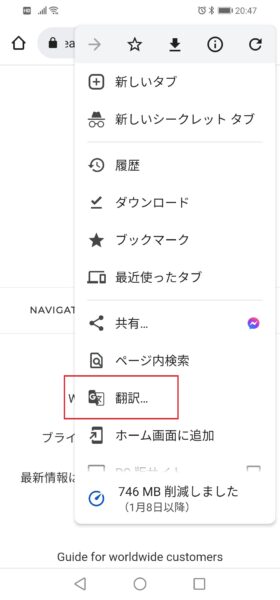 For PC
You can set it according to the following procedure when translating with a pc.
↓ Right-click anywhere on the screen & click Translate in Menu.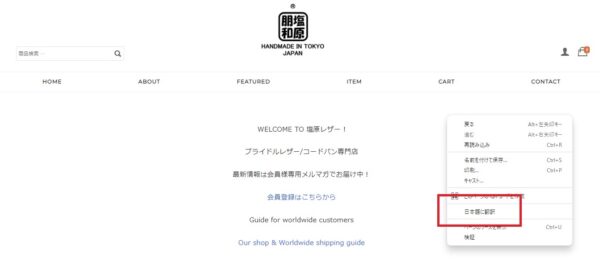 How to shopping
We welcome orders from customers all over the world.
Prices displayed on the site are displayed in Japanese yen.
As of 2022, US $ 1 = Japanese Yen approximately ¥ 115
This price includes consumption tax (10%) applied when purchasing products in Japan.
When shipping to countries other than Japan, the product price will be the price (-10%) excluding this consumption tax.
* If you an order, please select [International customer (outside of Japan)] as the payment method as shown in the image below!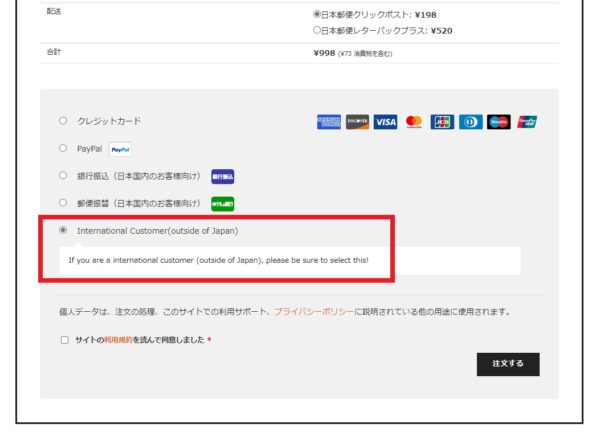 We will send you an email after calculating the consumption tax reduction and shipping fee.
Payment method
We accept only PayPal or credit cards as payment methods.

In addition to shipping charges, customs duties in your country are required to deliver products from Japan to overseas.
For customs duties, please pay by yourself according to the customs rules of your country.
Ordering regular products
Anyone can purchase the product.
However, leather care products such as leather care oils and beeswax wax are considered dangerous goods and may take some time to deliver or may not be shipped.
Participation in the auction
Our site holds an auction starting from a starting price of ¥1  Japanese yen as a "name-up campaign!"
Membership registration is required to participate in the auction.
In addition, non-claims, non-returns, and non-cancellations are stipulated as participation conditions in order to sell at a low price as a campaign product.
The membership registration method is as follows.
Overseas shipping
We use the EMS of Japan post office for overseas shipping.
Example of shipping fee: In the case of a mini wallet (500g)
Asia : US$14
Oceania : US$20
North America : US$20
Central America : US$20
Middle East : US$20
EU : US$22
South America : US$24
Africa : US$24
For details, please check the Japan post office site below.
EMS(Express Mail Service)of Japan post office
About inquiries
If you have any questions about our products or orders, please email us from [contact] below.
We do not respond to inquiries by international call.
Privacy policy
Our privacy policy is as follows.
Privacy policy
This site : Shiobara leather
Information management manager : Tomokazu Shiobara
・ Basic policy regarding personal information protection
The operator of this site, Shiobara Leather (hereinafter referred to as "We"), regarding the handling of personal information entrusted to us by users of the service site provided by us (hereinafter referred to as "user"), is as follows. We will publish the street privacy policy (hereinafter referred to as "this policy").
All employees will comply with this policy and related laws and regulations, protect the peace of mind of our customers, and respond to their trust. In addition, it shall be applied to all services provided by us (hereinafter referred to as "this service").
・ Types of information to be acquired and acquisition method
We will comply with this policy and related laws and regulations when acquiring personal information, and will acquire it in an appropriate manner. In addition, the following information will be obtained when using this service.
-Full name
-Address
-Telephone number (home landline number / mobile phone number)
-email address
In addition, when users access this site, we use Google Analytics etc. to obtain the following information.
-Cookies
-Referer
-Type of terminal
-Browser type
-The area you are accessing
-sex
See also Google Policy and Terms.
・ Purpose of use of personal information
Personal information entrusted to us by our customers is "providing products and services," "delivery of products and billing," "after service," "event information and mailing of periodicals," "business contact and contact." It will be used for "guidance" and "answering inquiries".
・ Management of personal information
We will strictly manage personal information in accordance with relevant laws and regulations and this policy to prevent leakage, falsification, loss, and unintended use of personal information.
In addition, we will provide necessary education to employees regarding the handling of personal information.
・ Provision of personal information to third parties
We will not provide the acquired personal information to a third party without the prior consent of the user. However, in the following cases, it may deviate from the principle and provide user information to a third party.
・ With the consent of the user
・ When disclosure is required to the contractor to whom we outsource in order to provide the service desired by the user
・ When disclosure is required by law
・ Disclosure of personal information
When a user requests disclosure of personal information, we will disclose it after confirming that it is a disclosure request from the person himself / herself.
In addition, even if corrections are required, we will respond promptly based on the procedures prescribed by us.
・ Inquiries regarding personal information
For inquiries, questions, and opinions regarding our privacy policy, please contact the following contact.
Shiobara leather
Email: tomokazushiobara@shiobaraleather.com
Phone: ₊813-3824-4747 (09: 00-17: 00 / Japan time)
・ About SSL
When providing personal information from our site, in order to prevent eavesdropping by a third party during communication, we can use SSL (Secure Sockets Layer) encryption technology to securely send personal information. increase.
・Modification
If necessary revisions are stipulated by the Personal Information Protection Law and other laws and regulations regarding the acquired personal information, we will review and improve them as appropriate.